Hacking Food Security from Space
Descartes Labs
Mar 28, 2017 · 2 min read
Does widespread hunger caused by food shortages contribute to conditions that lead to regional instability? If potential food shortages could be detected early and humanitarian action could be taken before the situation became dire — could conflict be avoided or at least mitigated?
Descartes Labs was selected by the Defense Advanced Research Projects Agency (DARPA) and awarded a $1.5 million dollar 3-year SBIR contract to create crop failure warning alerts based on satellite imagery derived indicators for the Middle East & North Africa region.
We were also part of a hackathon this past weekend hosted by the National Geospatial-Intelligence Agency (NGA). We opened up our platform to participants to explore how geospatial analysis can be used to study food security.
More than 50 software developers showed up to hear from experts at the NGA, USC, USGIF, Vencore and Descartes Labs, in Los Angeles. Dr. Anthony Vinci from the NGA set the tone by explaining that geospatial data and analytics can play a critical role in the mission of "literally helping to save lives."
THE CHALLENGE: MOROCCO
The hackers were given 28 hours, beginning on Saturday morning, to brainstorm and create applications that would tackle food security issues in Morocco. Our team rolled out limited access to the Descartes Labs' platform beta API. This gave participants access to roughly 40 TB of imagery from multiple satellite sensors including Landsat 8, Sentinel-1/2A, Terra/Aqua, RapidEye, and PlanetScope.
THE OUTCOME
The code freeze was issued at 2:00PM on Sunday, and we were impressed with the hacking innovations that the teams created. The teams presented their solutions in front of a panel of judges, such as a food security risk index assessment, mapping food hubs in the event of food scarcity events, and even a solution estimating farm sizes to enable farmers to share and compare techniques and information.
The winning team by judges and crowdsource vote created a fish distro system that optimizes delivery to drought impacted regions. They took home the first place prize, bragging rights, and $3,000.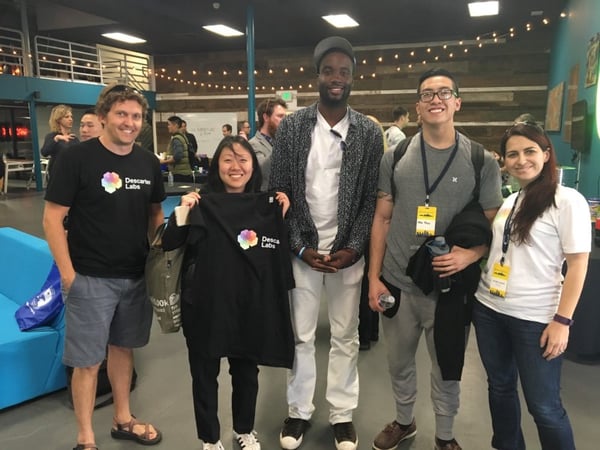 We were excited to give these hackers a sneak preview of the powerful tools we are creating to integrate remote sensing features into their applications, and we expect our ongoing work with DARPA to strengthen our efforts to deliver the most powerful geospatial business intelligence platform on the planet.
If you're interested to learn more about our technology, check out our new developer blog, or if you want to sign up to get notified when the platform is generally available for developers you can sign up here. Lastly, if you are in the government sector and attending the GEOINT 2017 Symposium in San Antonio Texas, June 4–7 we will be presenting and exhibiting at booth #1325, so stop by and see how Descartes Labs is changing the way we see the world.