Risk Management: Improve your input costs using Descartes Labs Vegetable Oils package
In summer 2022, the price of the soybean oil contract on CME reached an all-time high, with the Jan-2023 contract almost touching the 80 cts/lb mark. Under such inflationary pressures, input costs from soybean oil and other vegetable oils have almost doubled when compared to 2020. These past months, using the insights and recommendations from the Descartes Labs Vegetable Oils package helped our customers' procurement managers to reduce their input costs under those rapidly changing macroeconomic conditions.
Descartes Labs
Nov 8, 2022 · 3 min read
Soybean Oil January Contract - Year on Year Comparison
2022 has been a difficult year for vegetable oils supply availability worldwide. We have seen declines in soybean oil production in South America, export registration curbs on soybean-oil in Argentina. In an attempt to control rising domestic prices, Indonesia banned palm oil exports for a short period of time in May 2022. Prevalent drought conditions have wreaked havoc worldwide: Canadian farmers have shifted away from canola crops; low river levels on the Mississippi levels have disrupted the flow of grain and products barges to terminals. At the same time, in a context of high energy prices worldwide, the demand for alternative, renewable fuels is growing and we are seeing demand for vegetable oils from biofuels blenders and refiners compete with traditional cooking oil demand. All these factors were the recipe for the high and volatile price environment we are facing right now, making the job of procurement teams all the more important but difficult.
This rally in vegetable oils prices that began in 2021 has now breached all historical ranges. In the face of these rapidly changing market conditions, underpinned by an inflationary macro environment, a forward-looking risk management strategy is paramount.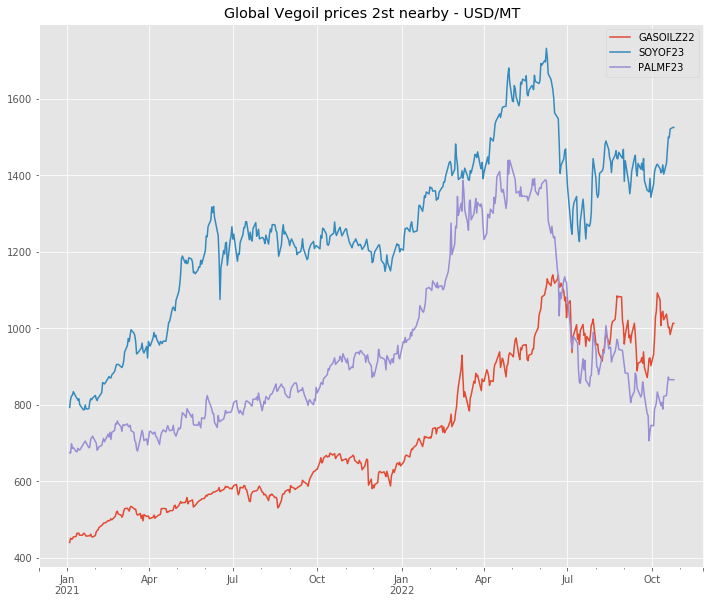 Historical Prices - Palm Oil Jan-23 & Soybean Oil Jan-23 vs ICE Gasoil
This is where Descartes Labs Vegetable Oils Market Insights package comes into play and brings you additional edge and confidence in your decision making.
Our Vegetable Oils offering is structured around 2 key components:
a price forecast trajectory spanning today to the next 6-9 months depending on the product, updated every day
a procurement strategy that leverages this forecast to suggest optimal timing for filling your procurement quotas
Both components are provided for soybean-oil and palm oil futures contracts in one single package.
Price Forecast Trajectory
As can be seen in the charts below, our soybean-oil and palm-oil models have been forecasting the latest price increase since early October accurately and on time, and are expecting this rally to continue into November 2022 for soybean-oil while a temporary slowdown in the palm-oil rally is expected.
Descartes Labs Market Insights team not only relies on traditional data sources to feed its model, but also leverages internal crop and weather models powered by our geospatial platform.
This dual approach, coupled with a robust ML-driven modeling process, incorporating some feedback loop, allows our models to react to evolving market conditions and to the seasonal or structural relevance of some of the features.
Recently, the key features driving our price forecasts have been related to the energy complex (gasoil price, RINS..) and to palm oil supply through our Indonesia and Malaysia internal production forecasts. In the supporting information delivered with our price forecast trajectory, we extract and provide those features contributions to our customer to be fully transparent and so that, as a user, you are fully aware of what is driving our forecast at any given time.
In addition, Descartes Labs provides a full history of out-of-sample past forecasts as evidence of model skill but also as a data source for quantitative trading users to evaluate how you could leverage our model in a strategy of your own making.
Procurement Strategy
Descartes Labs provides evidence of the value-add of our Market Insights through our generic procurement strategy that is part of our base package. We recognize that any company exposed to commodities market risk has its own risk management and procurement strategy aligned with its business needs. The Descartes Labs procurement strategy serves as a complement to your risk management and procurement processes.
In essence, this base strategy will provide you timely purchasing or hedging recommendations based on the current state of the market and the timing of your consumption periods. For ongoing performance-tracking, we also report the performance of such a strategy in terms of savings against a dollar-cost-averaging benchmark for each consumption period.
Over the last four years, our strategies saved an average of 2.4% vs benchmark for soybean-oil purchases and more than 3.5% vs benchmark for crude palm oil purchases. An excerpt from the recent monthly breakdown of this performance for palm oil is shown below:
Savings vs benchmark - year-to-date 2022
(*) In the case of crude palm oil, we consider as a benchmark a dollar-average purchase over 1 month, 3 months prior the effective consumption period to be aligned with typical contracting and delivery requirements for wholesale palm oil purchasing.
Customized Engagement for a tailor-made solution
Our models have flexible configurations and can easily be extended to test, validate and possibly incorporate customer-specific features derived from additional or proprietary data sources.
Similarly, the parameters of our hedging strategies are fully customizable to accommodate the specifics of your hedging program: timing, quantities, contract, frequency, liquidity constraints.
💡 Interested in using this technology?
If you are interested in learning more about how Descartes Labs can help you lower your procurement costs, reach out to our team to learn more about our off-the-shelf offering and our custom development engagements.