Announcing Packaged Analytics for Four New Commodities
Price forecasts, market insights, and purchasing recommendations for London Cocoa, Coffee Arabica, Corn, and Soybean Oil.
Descartes Labs
Apr 5, 2022 · 3 min read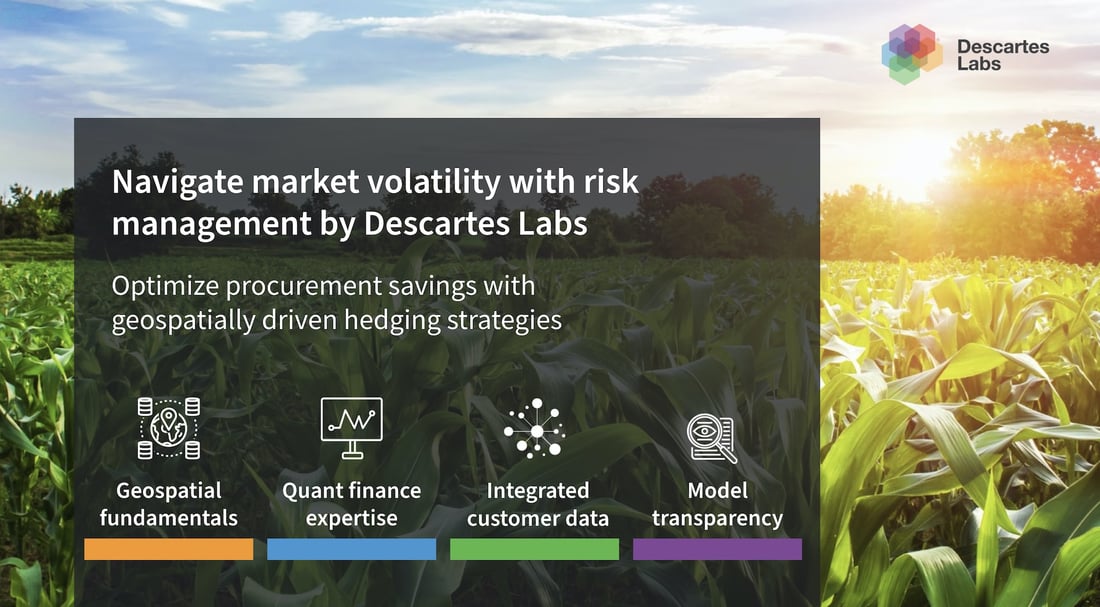 Today, we're excited to announce the release of new Packaged Analytics for London Cocoa, Coffee Arabica, Corn, and Soybean Oil. These comprehensive models are being added to our existing suite of commodities, which also includes Sugar, Soybean Meal, and Palm Oil.
Each of our Packaged Analytics includes price-forecasting models for a target commodity as well as actionable market insight and purchasing recommendations designed to provide cost savings and risk mitigation for companies with physical and pricing exposure to commodities and their derived ingredients.
What's behind the rise in commodity input costs?
Inflation—too much money chasing too few goods
Pandemic and conflict-related supply chain disruptions
Growing demand for Earth's natural resources
Increasingly frequent extreme weather events
Against the backdrop of this eye-watering ascent to record levels and the possibility of a commodities supercycle, the markets have also experienced surges in volatility due to geopolitical instability, shifting monetary policy, and growing macroeconomic uncertainty.
Despite the fact that markets are not perfectly efficient, the diffusion rate of new information continues to increase, resulting in fluctuations in anticipatory positioning and consequent short-term volatility. One of our objectives is to explain salient factors that may provide early insight into market drivers before they become apparent in commodity prices.

Base price forecasting models
The core of every commodity package is a set of proprietary base price forecasting models, which incorporate fundamental, macroeconomic, and geospatial factors. We leverage our 20+ petabyte lake of cleansed geospatial data to derive unique predictive features related to supply and demand:
Weather and climate
Crop health, yield, and harvesting
Supply chain logistics, freight, and shipping
Government statistics and public data
Macro, energy, and other market data
Additionally, our models ingest a vast array of exogenous factors, market-data variables, and fundamental data in order to generate predictive features and evaluate their contribution across multiple forecast horizons.
The result is a sophisticated ensemble of models that are able to identify and capture value in fundamental factors as well as other more nuanced low-coefficient residual factors.
Effectively, our models are dynamic, intelligent, and constantly adjusting as the contextual elasticity of factor contributions changes throughout time. This allows us to derive edge consistently and generate alpha in volatile markets that experience frequent regime transitions due to a variety of temporally influential drivers.
Use cases
Our baseline Packaged Analytics are designed to deliver out-of-the-box value and provide forecasts of a specific commodity's market price (then-current futures front-month) two weeks, one month, two months, and four months into the future. Our price forecasts are bundled with an execution and monetization strategy that complements two primary commercial use-cases.
Managers in direct procurement roles at leading CPG firms:
We offer specific daily purchasing recommendations that are designed to reduce the mean purchase price over a consumption period. Our goal is to provide you with an alternative view of the markets that can be used to generate significant cost savings (over traditional benchmarks) and reduce volatility-induced price risk.
Commodity trading desks at multinational merchants:
We offer a trading strategy that is designed to highlight and capitalize on an as-of-yet underutilized source of edge in the markets: geospatial intelligence and its ability to provide early insight into how S&Ds will translate into agricultural market prices and volatility in the near term.
While our Packaged Analytics forecasting models and execution strategies provide immediate value, our market forecasting team also encourages collaborative solutions engagements with our clients. We have teams of data scientists, business strategists, and subject-matter experts with deep domain expertise in consumer goods, agriculture, meteorology, supply chain, economics, and other domains.
Our client-specific solutions often incorporate alternative data sets including proprietary ground-truth data, operational or production-related variables, and other publicly available time series.
Depending on a client's needs and goals, we have the ability to generate novel fundamental features, develop bespoke factor models in order to forecast a unique target variable (at some horizon), and engineer hedging or trading strategies that are optimized to provide value in a specific business context.
Typical engagement timeline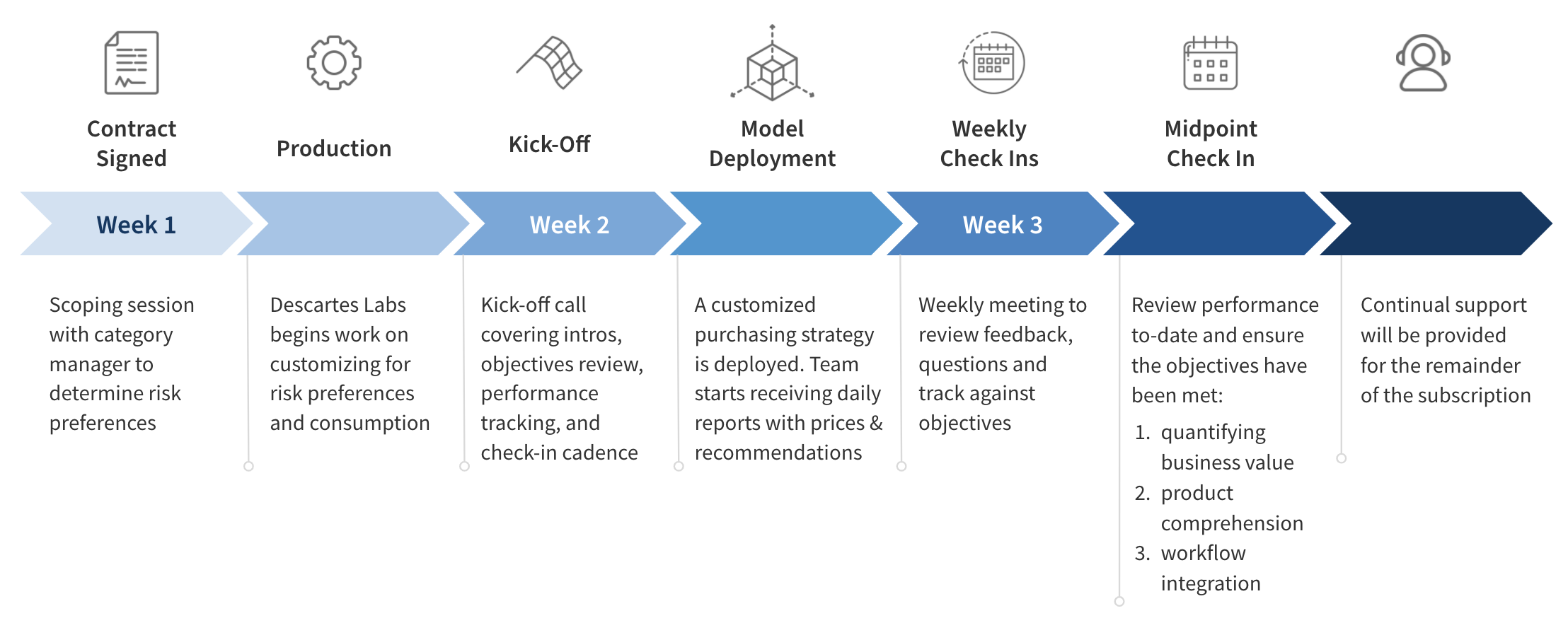 Coming soon
We are currently working on expanding our coverage of grains, oilseeds, and soft-commodities markets, and plan to release Packaged Analytics for Wheat and Soybeans in the first half of this year. Our full 2022 product roadmap can be found below.
If you're interested in any of these commodities, sign up for a commodity sourcing review.
Or, if you have questions, get in touch with the Market Forecasting team directly.
Thanks!