Monitoring Methane in Our Home State — A Bold New Plan for New Mexico
Descartes Labs
Sep 19, 2019 · 4 min read
Today we're excited to announce that Descartes Labs will create mapping and modeling capabilities to monitor methane emissions in New Mexico, starting in the Permian Basin. This announcement is not just exciting for us because collecting more data about methane is critical to curbing climate change on a global scale. We're particularly passionate about this project because it gives us a chance to make a difference right here at home.
We announced the new initiative at the 2030 Governor's Energy and Environmental Technology Summit in Santa Fe, during which Governor Michelle Lujan Grisham brought together energy-related technology companies and organizations across the political spectrum. Leaders including EOG Resources, Occidental Petroleum, Pioneer Natural Resources, Los Alamos National Laboratories, and the Environmental Defense Fund (EDF) gathered to explore cutting-edge innovations that create a pathway for New Mexico's environmental and energy future. The large-scale methane monitoring initiative is a key outcome of the 2030 Summit.
A Data Refinery for New Mexico
Descartes Labs will build a comprehensive data refinery for the state, combining multiple datasets from inputs including Sentinel-5P satellite data, latitude and longitude locations of oil and gas well pads extracted using computer vision, historical wind models sourced from the US National Oceanic and Atmospheric Administration (NOAA), and eventually, aerial and land-based methane sensors from public and private energy market stakeholders. As far as we know, New Mexico will be the first state to formally leverage data from the Sentinel-5P satellite in a comprehensive monitoring solution.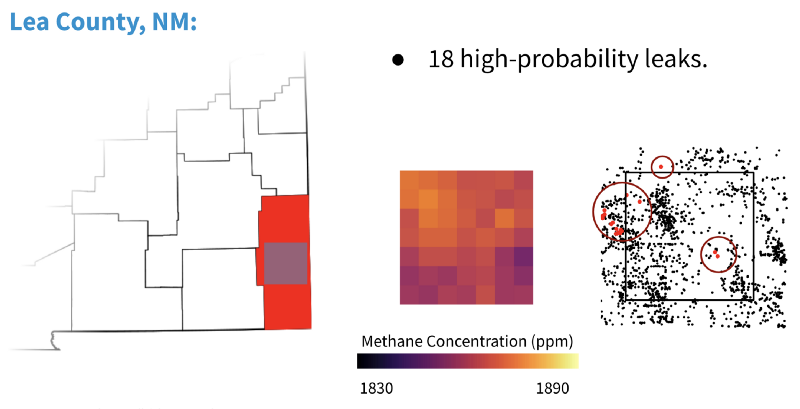 The goal of the initiative is to support Governor Lujan Grisham's executive order calling for a 45% reduction in 2005 levels of New Mexico's greenhouse gas emissions by 2030. In order to meet this bold goal, the Governor has said we have to take aggressive action in a very short amount of time. But first, we have to know where to start. What were New Mexico's greenhouse gas emissions in 2005? What are they now? And where are they coming from?
Mapping Methane
Advanced geospatial analytics technology has evolved in recent years, along with artificial intelligence, machine learning, and supercomputing infrastructure to give us the measurement and forecasting capabilities we need to create computer-simulated models that answer these questions. In New Mexico, we're starting with methane — sometimes called "the greenhouse gas on steroids" — which is believed to trap 28 times more atmospheric heat than carbon dioxide over 100 years.
The Permian Basin, spanning more than 86,000 square miles across southeastern New Mexico and West Texas and is now the highest-producing oilfield in the world, produces a large amount of the state's methane. In fact, New Mexico's emissions from methane, one of the most harmful greenhouse gases, is double the nationwide average. But before we can reduce these levels, we need more precise measurements.
For example, a methane survey in California led by NASA Jet Propulsion Laboratory from 2015 through 2017 found that 80% of methane emissions came from 25% of sources, and in some cases, more than 50% of the emissions came from only 1% of sources. This kind of data points to "super emitters," such as a dairy farm, poorly maintained landfill, or natural gas compressor station with a leak.
Data-Driven Monitoring, For Industry and the Environment
To be clear, this initiative is not about punishing oil and gas companies or making a choice between industry and the environment. The oil and gas industry provides the majority of New Mexico's revenue. If we want to change our state, and our planet, for the better, we need to work with the industry to create smarter regulation. In fact, several major energy companies have spoken out against the EPA's recent proposed rollbacks on methane regulations. In the absence of federal mandates, states like New Mexico have to take matters into their own hands.
We're creating a neutral, data-driven model that can help emitters make improvements and point to potential problem areas on a near-real-time basis. It's a model that can benefit everyone, long into the future. But first, we need a clear picture of what's contributing to climate change.
While there is still a lot to learn about methane around the world, we will leverage the latest in cloud computing and the next generation of machine learning analytics to monitor methane in New Mexico. This requires a highly sophisticated model with complex pre-processing, data storage, and high-interconnect computation, which is exactly what we built Descartes Labs for. And the good news is that this is just the beginning.
There are at least three new publicly available satellites with higher resolution capabilities scheduled to be launched by NASA and the Environmental Defense Fund between 2020 and 2022, so a path to even more detailed greenhouse gas measurements is just around the corner. By implementing this technology now, New Mexico is getting a head start on reaching its greenhouse gas reduction goals.
Acting Locally, For the Future
In the coming year, we'll be working hard to make the data refinery publicly accessible to New Mexico's constituents. This will include a dashboard and mapping system to monitor, report, and verify greenhouse gas emissions beginning with methane by March 2020, and extending to other pollutants in the future.
New Mexico is unique as a state that is deeply reliant on oil and gas as a primary source of funding yet is taking action to set sustainable policies for the future. Governor Lujan Grisham recognizes that it will take a healthy environment, and a healthy industry, for the state to enjoy continued prosperity in the future. Watch for more news about this exciting initiative as we create a model that we hope other states will follow.
---
Descartes Labs is building a digital twin of our planet. Today, the 2030 Summit brought together industry leaders to explore cutting-edge innovations and technologies to create a pathway for New Mexico's environmental and energy future.