ClearSky: A Cloud-Free View of the Planet
Predicting full-spectrum optical and infrared imagery from SAR alone with Aspia Space
Descartes Labs
Feb 28, 2022 · 2 min read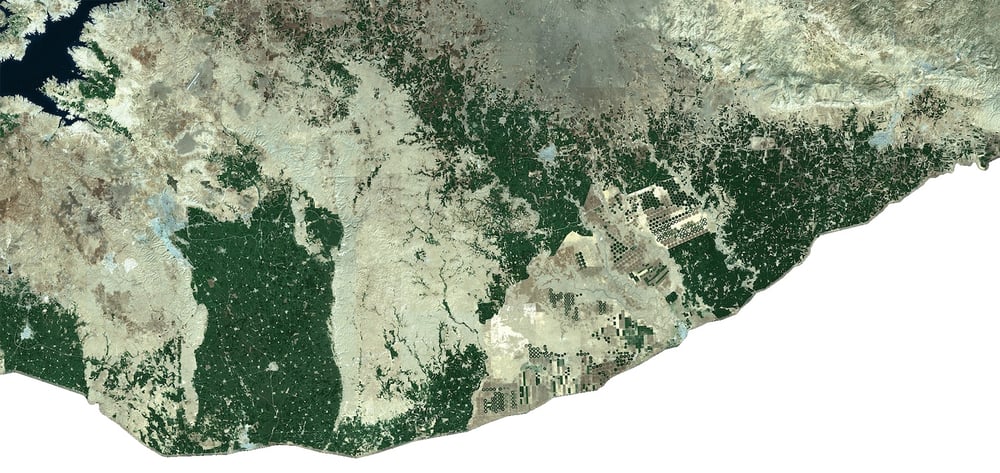 We're excited to announce a new partnership with Aspia Space to power its ClearSky product offering with access to global scale raster data from Descartes Labs. ClearSky is a cutting-edge AI algorithm that solves the problem of persistent cloud cover in traditional satellite imagery by predicting full-spectrum optical and near-infrared imagery using SAR alone. This capability opens up the door to much more uniform and regular analyses of global agriculture.
ClearSky transforms SAR data, like the European Space Agency's Sentinel-1, into multispectral imagery that can be used for numerous applications such as indicating the health of plants from scales of just 10 meters to entire continents.
The Synthetic Aperture Radar (SAR) data that powers ClearSky is collected from satellites by bouncing micro and radio waves off the Earth's surface to produce detailed maps. One of the big advantages of SAR is that it's unobscured by clouds, meaning measurements can be taken in any weather condition, day or night.
This flexibility is important, but SAR can be difficult to process and interpret compared to traditional optical imagery. By combining Descartes Labs' specially processed SAR data and the AI algorithms behind ClearSky, it's now possible to broadly apply concepts that were only research topics only a few years ago.
ClearSky's advantages over traditional imagery include:
Regular: C

loud-free 10 meter multispectral imagery every 8 to 12 days

Reliable: C

onsistent, clean images with no intermittency

Flexible: Information-rich

data supports multiple applications

Scalable: Global coverage to go from

individual fields to entire continents
Normalized Difference Water Index (NDWI) compares the reflectance in the short-wave infrared band to the green band to detect surface water. So NDWI can easily be calculated from ClearSky imagery to map, and track, flooding events.
Potential applications for ClearSky include:
Crop classification

Crop health & yield

Flood & drought d

etection

Deep statistical insights using data mining to identify unique spatial & temporal trends

Generate hyperspectral data for any band within 400-2300nm range (visible-infrared)
Cl
earSky in action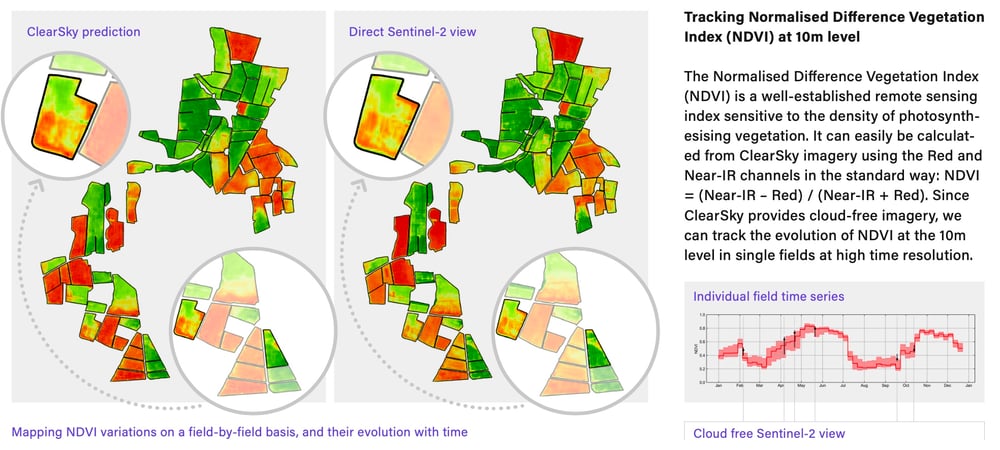 "The best way to describe ClearSky is that it's like looking at the world as though there were no clouds at all."

—

Chris Roberts, CEO of Aspia Space
A clear advantage
One of the big advantages of ClearSky is its ability to penetrate fully opaque cloud cover. Going beyond competitive offerings that provide cloud-free imaging only in translucent conditions, the ClearSky algorithm is capable of penetrating 100% obscuration. The images below demonstrate this capability for an area surrounding the Humber Estuary along the Northeast coast of England.
ClearSky's advantage becomes even more pronounced over time as the more imagery it processes, the more accurate it gets. Aspia Space updates ClearSky every six months to ensure predictions are the best they can be.
A demonstration of ClearSky's ability to penetrate thick cloud cover surrounding the Humber Estuary on the Northeast coast of England. The Sentinel-2 image at left is only partially useful while the ClearSky image at right provides full-spectrum, wall-to-wall coverage.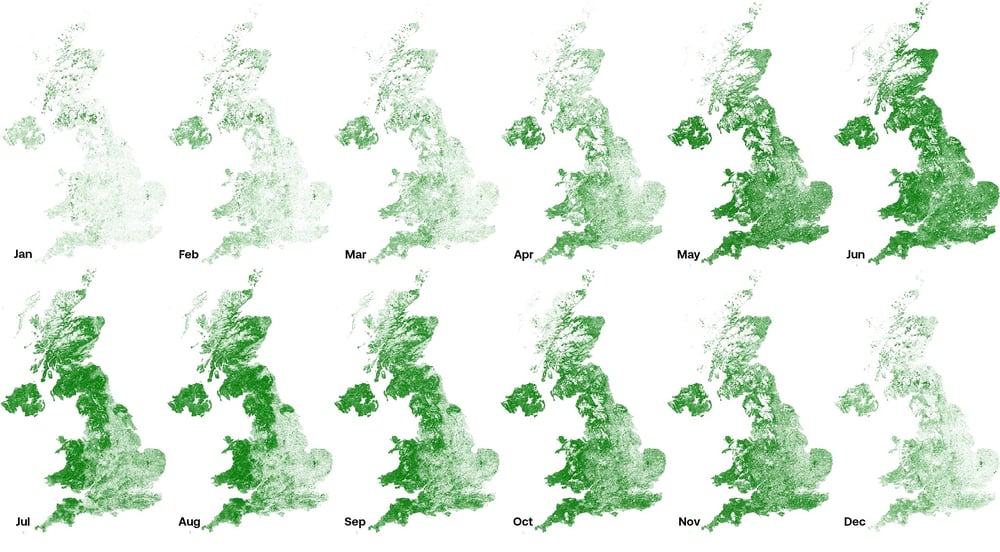 This sequence of images shows the density of vegetation as traced by NDVI for the UK throughout 2020.
Want to learn more?
We're excited to partner with Aspia Space to bring the power of ClearSky to market. The ability to capitalize on the uninterrupted time dimension will be a major innovation for agricultural remote sensing analysis.
"We're honored that Aspia Space has selected Descartes Labs to power and run their flagship product ClearSky," said Tom Siddiqui, Head of Agriculture & Financial Services at Descartes Labs. "Our customers can benefit from Aspia's groundbreaking technology through this partnership as ClearSky will be made available as Premium Data Product in the Descartes Labs Catalog."
Get in touch with us or contact Aspia Space directly to learn more about how ClearSky can power your applications.
----
About our partner: Aspia Space
Aspia Space is a company pushing the limits of Earth Observation data. With over two decades of expertise in image and spectral analysis rooted in astrophysics, and bringing to bear cutting-edge deep learning techniques, Aspia Space is innovating in downstream Earth Observation analysis. We are passionate about deriving meaning from remote sensing data, unlocking value, and gaining insights that others cannot. This allows our customers to make better decisions based on reliable intelligence, leading to improvements in efficiency, productivity, and sustainability. See More. Know More. Be Smarter.
To learn more, please visit: https://aspiaspace.com/