We're excited to announce a new partnership with Digifarm, Norway's leading ag-tech startup dedicated to providing accurate and up-to-date field boundaries to optimize the agriculture value chain. To do this, Digifarm uses deep neural networks to super resolve Earth observation data from Sentinel-2 and provide the most accurate field boundary and seeded area data.
Field boundaries are a fundamental layer across agriculture; precision agriculture solutions are only as effective as the field boundary data they are built on. However, current datasets are inaccurate and outdated, and manual collection of field boundaries is a massive undertaking prone to errors. Digifarm has the GPUs and engineering expertise necessary to handle the satellite imagery and data processing, thus enabling organizations to get the most out of the data with little effort or cost.
Who can this help?
Agriculture input providers: seeding rate and acreage for variable rate technology
Commodity traders: seeded acres for yield forecasting, carbon mapping, crop classification
IoT: field planning for safe and reliable operations
Consumer brands: delineating boundaries, grain processing & storage
Financial services: crop insurance & subsidies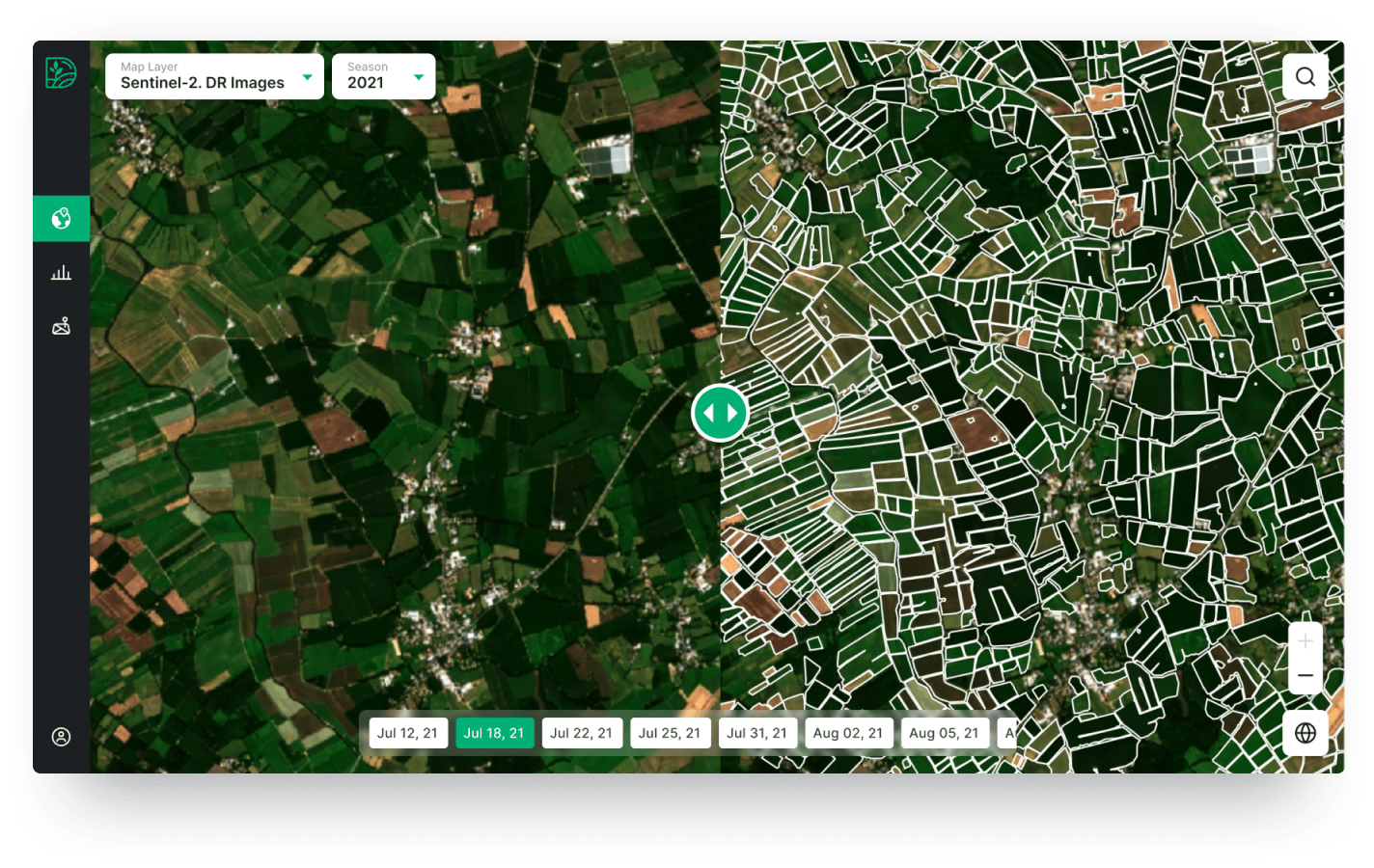 The technology
Digifarm's technology uses innovative deep learning and super resolution techniques to produce 1m resolution imagery from Sentinel-2 data. This is used to create annual delineated, in-season boundaries in parts of Europe, North America, and Brazil, with more regions being added regularly.
The SaaS model is integrated directly with customer's digital solutions via API, providing end-users with the quickest and most cost effective on-demand field boundary data.
To date, Digifarm has delineated more than 150 million hectares of fields around the globe, with detection accuracies of over 94%. This is 12–15% higher than competing solutions, which are limited by image resolution.
By harnessing the power of satellite data, agricultural organizations can optimize their supply chains and make data-driven decisions, resulting in lower costs, increased revenue, and more sustainable operations.
Earth observation from field to forest
By partnering with Digifarm, Descartes Labs' customers will be able to broaden the ways in which they benefit from satellite imagery, empowering them to become more geospatially-informed and data-driven.
Agricultural organizations are part of a massive network of commodities spanning the entire globe. These companies often have diverse interests—from wheat fields in North America, to palm plantations in SE Asia, and more. Customers can take advantage of Digifarm's field delineation expertise, while also benefiting from Descartes Labs' world-class deforestation monitoring solutions to get a more complete picture of their interests.
At their core, both Digifarm and Descartes Labs strive to make Earth observation data more accessible to companies who haven't been able to fully realize its benefits in the past. We envision a future where sustainable agriculture practices—precision and regenerative agriculture, sustainability monitoring and verification, and data-optimized supply chains—are the norm across the agricultural industry.
To accomplish this, it's imperative that technology providers with aligning missions work together to provide agricultural organizations with the data and tools they need to improve sustainability across their supply chains.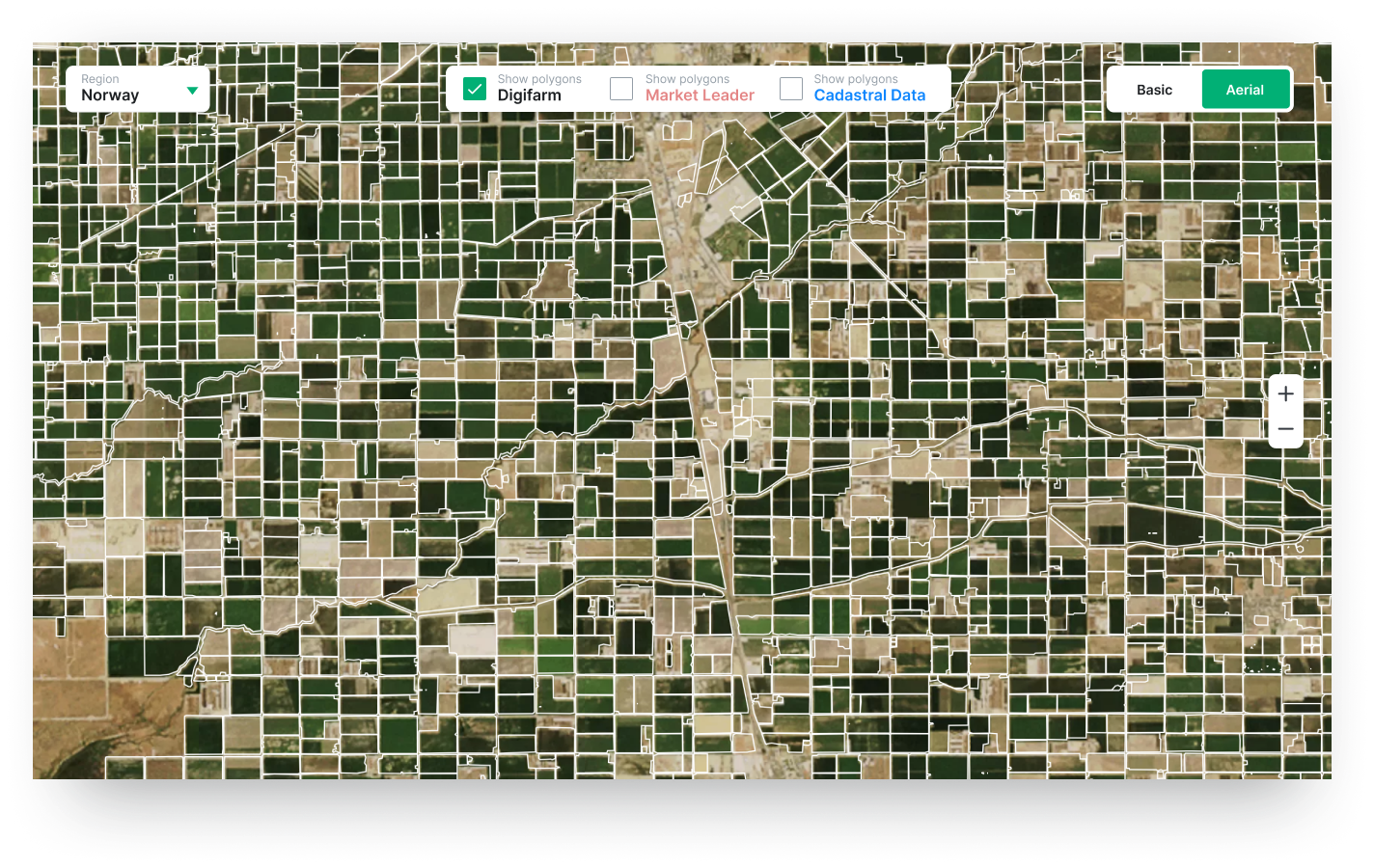 About our partner: Digifarm
DigiFarm is Norway's leading ag-tech startup and has spent the last three years developing technology for automatically detecting the highest accuracy field boundaries and seeded acres using deep neural network models and super resolved EO-data. Their mission is to help organizations in the ag-value chain optimize their production.
Digifarm's small team of 26 members is made up almost exclusively of engineering personnel. The team's core strengths span from deep agricultural and crop production experience, data science and machine learning to GIS and Remote Sensing engineering.
Interested in learning more? Get in touch to find out how your business could benefit from improved field boundaries.