@WildfireSignal Tracking System Now Live on Twitter
Descartes Labs
Jul 18, 2018 · 2 min read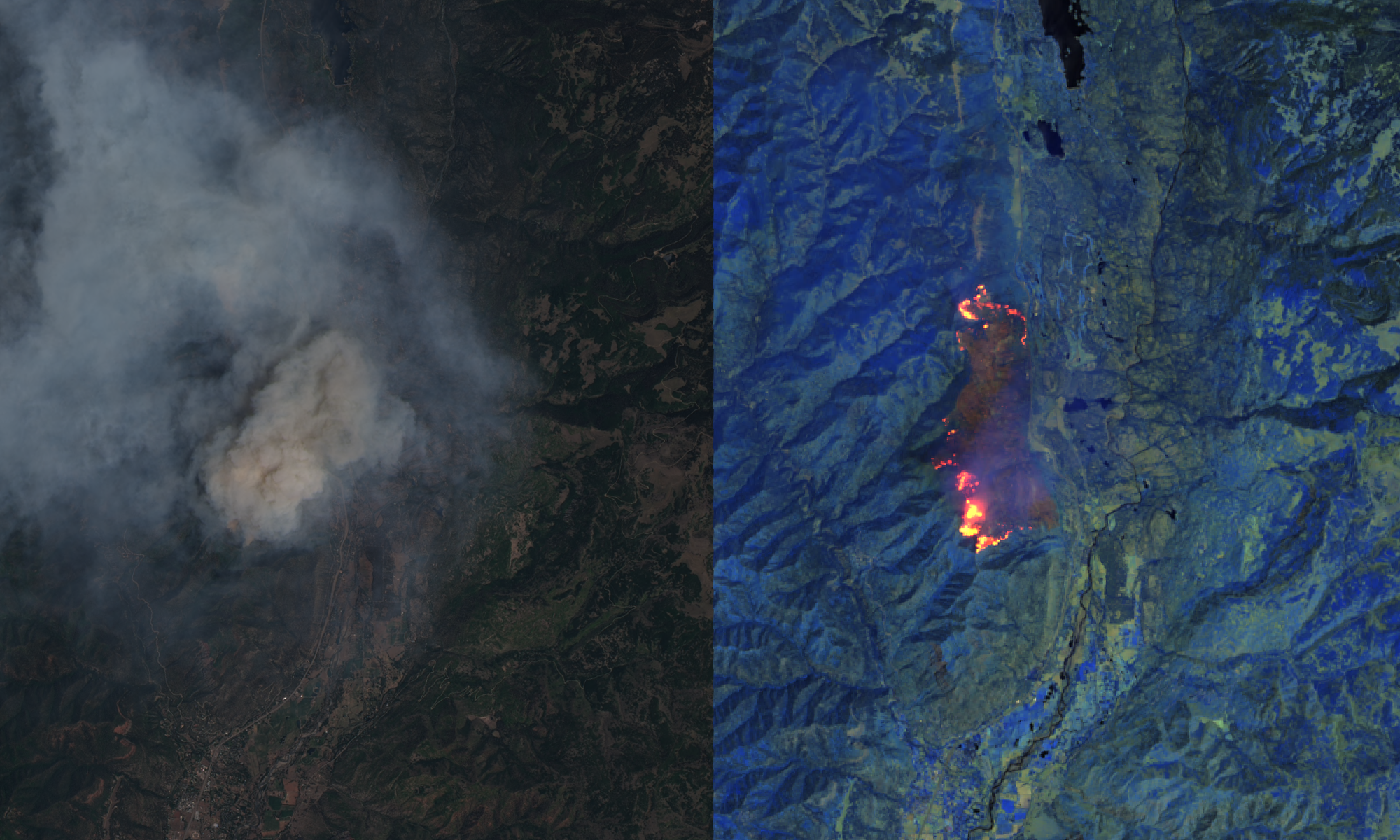 Our Wildfire Watch System, @WildfireSignal, went live on Twitter today. Our applied science team is experimenting with new ways to improve how disasters are seen and tracked, starting with wildfires. Embedded in each tweet, served up through the system, is a time-lapse video with red-green-blue (RGB) and infrared data that shows the progression of wildfires in neon pink and blue. The heat signature of an active wildfire shows up as a set of bright red and white pixels. The smoke plume follows soon after the optical image. We hope that this bot — and the technology that powers it — can provide a new way to visualize and track wildfires.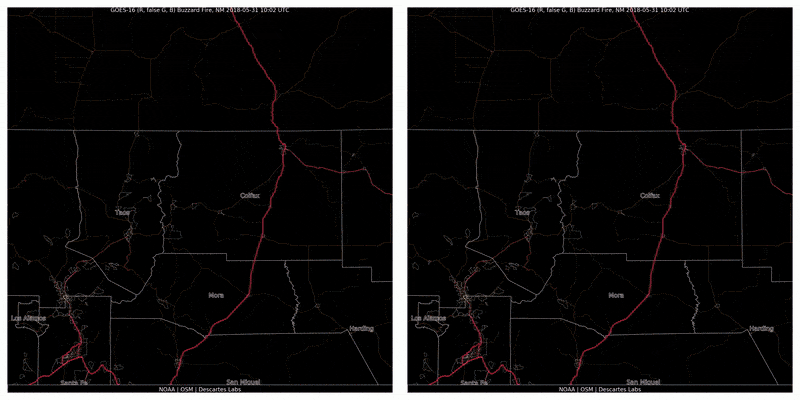 The recent Ute Park Fire, just north of Santa Fe near the town of Taos, broke out at the end of May. You can see the smoke plume develop in optical imagery on the left, and the fire in bright red in infrared imagery on the right.
Why Wildfires?
We began looking at natural disasters in 2017 after first watching Hurricane Harvey devastate Houston and the Gulf of Mexico. Wildfires hit close to home across Descartes Labs. Team members who spent time at the Los Alamos National Labs remembered the evacuation experience from the fires in 2000 and 2011, which came dangerously close to burning down the Labs. The California wildfires in 2017 affected many of the families and friends of team members from the area. We began to track patterns in these fires, which became foundational to our new Wildfire Watch system design. As we built the system, we realized we could use it to create a Twitter bot that would give people affected by wildfires across the country the ability to track their movement and monitor the direction of smoke from the fire.
How does it work?
We retrieve the active fire list from Inciweb, a government interagency incident management platform, and use the new GOES-16 satellite to create time-lapse video of all active wildfires in the U.S.
GOES-16 provides a close-to-live video feed of the U.S. (updated every five minutes) and we're able to pull it down, clean it up, and get it analysis-ready within four minutes from capture. This allows us to offer quick insights into the movements of wildfires and their smoke plumes. We also provide higher-resolution images twice a week from Landsat 8 and Sentinel-2 which are used to confirm the "burn scars" as the fire moves (shown left).
Our Twitter bot updates every six hours and automatically produces new videos of the previous six hours. This bot will tell the story of wildfires in the continental United States, all connected to hashtags (like #UteParkFire), to allow people to easily search for and follow a fire.
What's next?
We're currently feeding a dedicated Wildfire Watch system to the vigilant overseers of the Santa Fe National Forest to help track and monitor fires as soon as they break out, anywhere in northern New Mexico. By fusing this data with building detection, we can show homes, structures, and residents most at risk as a fire spreads. While our Wildfire Watch system is currently focused on monitoring and tracking ongoing wildfires, we are also working to develop novel ways to detect new wildfires as quickly as possible. A live feed of this kind would have the potential to reduce the reaction time of first responders, and hopefully prevent small disasters from becoming big ones.